"Business Is Picking Up!" At Lindy Paving With New SENNEBOGEN Material Handlers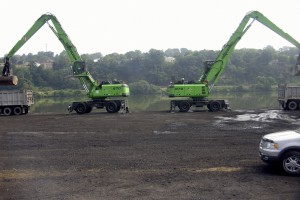 NEW CASTLE, PA – As part of the P.J. Dick family of construction and contracting companies, Lindy Paving has a voracious appetite for asphalt. The National Asphalt Paving Association awarded its prestigious Sheldon G. Hayes Award to Lindy for the top highway-paving project in the United States in 2005 and 2008 and placed second in 2007. To help meet the demand of its many projects throughout western Pennsylvania, Lindy's Neville Island site near Pittsburgh was developed as a fully integrated asphalt manufacturing and distribution facility, producing up to 400 tons per hour.
In 2006, Lindy purchased a new SENNEBOGEN 870 M rubber-tired material handler to take over loading operations at its Neville Island port terminal. Tim Lang, the Equipment Manager at Lindy Paving, explains that the terminal has used converted excavators for loading operations in the past, but the new SENNEBOGEN machine performed well enough that a second one has been purchased for the terminal.
Located on the Ohio River, not far from Pittsburgh International Airport, the Lindy terminal receives a steady stream of 1500-ton barges laden with sand and aggregate for asphalt production at the island's nearby plant. The terminal also receives and stores loads of salt for de-icing highways in the winter. For several years now, Lindy has also provided port services to Shenango Steel. Shenango's coking plant on Neville Island is located adjacent to the Lindy terminal property. The Lindy terminal is under contract to handle the barges of coal which Shenango bakes into about 380,000 tons of coke per year.
According to Tim Lang, the addition of the second SENNEBOGEN was simply a matter of economics. "We were contracting out some of the loading work," he explains. "Our workload had risen; we were very busy, and we realized that we could do it ourselves for lower cost."
The first 870 M logged approximately 6000 hours through its first 30 months. Lindy then returned to Gibson Machinery, the Cleveland-based dealer for SENNEBOGEN machines in the region, with a location on Neville Island (Pittsburgh) to handle product support, equipment sales and rentals in the western Pennsylvania and western Virginia territories, for a second machine. "The new unit is identical to the first one," says Lang. "Same specs, same equipment. It's a good machine, gives us no serious problems, price is right, service is good, it's what we need… there was no reason to think of getting anything else! And now we can keep everything in-house."
The two "green machines" now work side-by-side, non-stop, at the terminal. Each machine is capable of offloading three jumbo barges per shift as well as stockpiling and loading trucks.
Lang sees the purpose-built SENNEBOGEN equipment as a big improvement over the excavators they replaced. "They're two different machines trying to do the same job. The SENNEBOGEN is really made for unloading barges – the excavator is made to dig and needs to be converted for this work.
Tim Lang and Lindy's terminal managers first learned about how SENNEBOGEN could fit into their operation when Gibson Machinery's equipment specialist, Jim Iudiciani arranged a demonstration on their site. Lang soon learned that some of the Gibson technicians lived in the same area as Lindy's own technicians, so service has never been a problem. "If we put in a call, one of the Gibson guys can be here within an hour," Lang says.
The SENNEBOGEN 870 M is a 165,000 lb. unit with a nominal reach of up to 66 ft. The models working at the Lindy Paving terminal are equipped with a 4.5 yd. clamshell bucket. Both feature SENNEBOGEN's popular elevating cab, which gives operators a much improved view into the hold of the barges and into the trucks they are loading. Tim Lang's observation is that, from an excavator cab, the operator can only see into half of the jumbo barge, where the SENNEBOGEN material handlers provide the height to see directly into the entire hold, and move material out more efficiently.
"What makes it right for what we're doing is simplicity. These machines don't have a lot of bells & whistles on them. They're simple to work on, simple to run; they're just a nice machine. It has worked out very well for us."
With the right loading equipment in place and good customers right next door, business is still "picking up" at the Neville Island terminal.
About SENNEBOGEN
SENNEBOGEN has been a leading name in the global material handling industry for nearly 60 years. Based in Stanley, North Carolina, within the greater Charlotte region, SENNEBOGEN LLC offers a complete range of purpose-built machines to suit virtually any material handling application. Established in America in the year 2000, SENNEBOGEN LLC has quickly become a leading provider of specialized equipment solutions for recycling and scrap metal yards, barge and port operations, log-handling, transfer stations and waste facilities from coast to coast. A growing network of distributors supports SENNEBOGEN LLC sales and service across the Americas, ensuring the highest standard of professional machine support and parts availability.
For more information on the full line of SENNEBOGEN green line material handlers, contact:
Constantino Lannes, President
SENNEBOGEN LLC
1957 Sennebogen Trail (formerly 7669 Old Plank Road)
Stanley, NC 28164 
Tel: (704) 347-4910 or fax (704) 347-8894
E-mail: sales@sennebogenllc.com
Visit the web site at www.sennebogen-na.com