"Effectiveness" Is A Winning Strategy For London Communications Agency
London, Ontario – Two communications projects developed for clients of Marketing Strategies & Solutions of London, Ontario, have been honored in the 2011 Summit Marketing Effectiveness Awards (MEA).
The awards are presented by the Summit International Awards (SIA), an organization created in 1994 specifically to honor achievement by small and medium-sized advertising agencies. This marks the sixth consecutive year in which Marketing Strategies & Solutions has ranked among the winners of the annual competition, including every year since SIA inaugurated its Marketing Effective Awards in 2006. Each entry is scored on how well it achieves its specified goal "to change, influence or reinforce a target audience's knowledge, attitudes or beliefs." Of 604 entries submitted internationally, less than 9% received scores high enough to earn an MEA this year for work completed in 2010.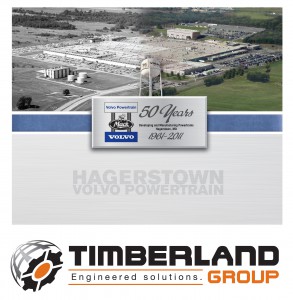 The winning entries from Marketing Strategies & Solutions included a 42-page commemorative booklet produced for the 50th anniversary of Volvo Powertrain in Hagerstown, MD and a rebranding program developed to bring a unified identity to the operating divisions of the Timberland Group, an international engineering firm based in Woodstock, ON.
On receiving notification of the awards, Robert Adeland, President of Marketing Strategies & Solutions, commented, "These are the awards that we most value from the industry. The MEAs represent work that delivers impact to our clients' bottom line."
Over the past six years, Marketing Strategies & Solutions has been awarded MEAs in varied communications categories ranging from trade show exhibits to website design to public relations.
About Marketing Strategies & Solutions
Established by Robert Adeland in 1997, Marketing Strategies & Solutions has found a successful niche in the marketing world as a specialist in integrated communication services for industrial manufacturers and other business-to-business clients. The firm is one of the selected advertising agencies in North America to be admitted as members of the Association of Equipment Manufacturers (AEM).
Major clients in Canada and the United States include Volvo Road Machinery, SENNEBOGEN LLC, Winkle Industries, and Sommers Motor Generator Sales. The agency also serves numerous manufacturers and business services local to London, Ontario.
For more information on Marketing Strategies & Solutions, visit the website at www.marketingstrategiesandsolutions.com or contact:
Robert Adeland, President
Marketing Strategies & Solutions
433 William Street
London, Ontario N6B 3E1
t: (519) 432-8327
f: (519) 642-3372
robert@marketingstrategiesandsolutions.com