Dan Breznicar Joins Top Lift Team
STONEY CREEK, ON – David Shea, Managing Director and co-founder of Top Lift Enterprises, is pleased to announce the appointment of Dan Breznicar as the new Parts and Service Manager in the company's Ontario branch.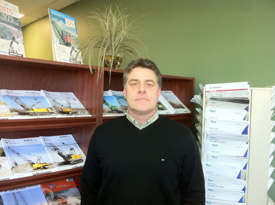 "Adding quality, experienced people like Dan Breznicar to the Top Lift team is more evidence that as we continue to grow as a company, we will do whatever it takes to earn and keep our customers' business," says Shea.
Breznicar will be working out of Top Lift's Stoney Creek, Ontario main office where he will be leading the team servicing customers in the province's retail construction and material handling industries.
Like all of Top Lift's branches, the Ontario branch stocks an inventory of parts for the several product lines the company represents, including SENNEBOGEN, Doosan and Terex. Speedy delivery of parts, highly trained field service technicians and 24/7 emergency parts and service are hallmarks of the company.
Breznicar brings over 25 years of combined experience in construction and heavy equipment as well as parts and service management to his new position. "We are very fortunate to be able to bring someone with Dan's background with heavy equipment on to our team. His experience in leading the Parts and Service Departments is a big plus for our organization", says Shea.
According to Breznicar, "I have been familiar with Top Lift for about 10 years and I've watched the company grow and expand in that time. It's a company that really impressed me with its forward-looking philosophy and potential for growth. For me, joining Top Lift is an opportunity — like getting in on the ground-floor of something that's going to be a lot bigger five years from now than it was five years ago."
On the job since January 2011, Breznicar says that most of his time so far has been spent getting to know the company and its people and the products and services it represents. He admits that he was surprised by the number of product lines Top Lift carries. He says his role is more management-oriented than technically-based.
"I'm not a mechanic and I tell people that. My role is about day-to-day operations of the Parts and Service Department, making sure we have the right parts in stock, that the mechanics are working efficiently and have all the right equipment in the right places and that the trucks on the road are properly equipped with the right tools to get the job done right, the first time. My predecessor Tony Rea has moved into a product support role in which will be a big help for customers and our own people with the more technical aspects of the business," says Breznicar.
In terms of his personal and professional goals, Breznicar says he wants to nurture a respectful working environment that will increase efficiency and grow the business.
"I want Top Lift customers to be left with the impression that they were looked after properly – that we got there on-time, we fixed it the first time, we charged them the right price and the parts counter person facing a back-order situation followed up with customers waiting for parts."
Breznicar has high praise for David Shea and Top Lift senior management whom he says are very forward-thinking as evidenced by the company's new Heavy Industrial Division and recent addition of three new Regional Sales Managers.
"I want to work in an environment that is receptive to new ideas and where I feel I'm contributing and everyone else feels the same way," says Breznicar. "David Shea has created that type of working environment at Top Lift and I'm excited to now be a part of it."
Based in Stoney Creek, Ontario, with fully equipped service branches in Quebec and BC, Top Lift is one of Canada's fastest growing construction equipment and heavy industrial dealers.
For further information on Top Lift Enterprises, Inc., contact:
David Shea, Managing Director
Top Lift Enterprises, Inc.
43 Teal Avenue, Unit 1
Stoney Creek, ON L8E 3B1
Phone: 1-866-TOP-LIFT (866-867-5438)
Fax: (905) 662-8058
www.toplift.com