New UK-Based Waste Trailers Set To Launch Into European Fleets
MIDDLESBROUGH, UK – The success of Canadian-designed trailers now being assembled in a new UK production and service facility bodes well for a strong future in the European waste industry.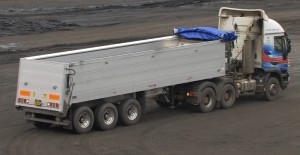 Titan Trailers Inc. shipped the first of its patented aluminium trailer body system to the United Kingdom in 2004. Since then, the company has been working with some of the nation's top hauliers and agents to meet local needs and assess the potential for an increased presence here. More recently, Titan made a large commitment with a Middlesbrough assembly plant on Teesside to construct all of its UK-bound THINWALL® trailers and install European-standard running gear.
Mike Kloepfer, President and founder of Titan Trailers Inc., reports that the success of his trailers in UK fleets is a strong sign of potential success on the continent. "We have had an excellent reception here," he says. "Our early customers recognized the potential of our trailers and they have invested a lot of their expertise to help us tailor our product to this market. We now believe we can offer UK and EC hauliers a much stronger product than they have seen anywhere in the past."
From skeptic to advocate
Yuill & Dodds Ltd. was among the first UK companies to recognize the long-term business value of Titan THINWALL trailers. As Managing Director of Yuill & Dodds Ltd., Brian Yuill, is now one of the strongest advocates of the Titan cause. Brian admits that he was initially skeptical of Titan's THINWALL design. "I had some reservations at first, because the construction was radically different from any other waste trailer. But I learned quickly that it was a far better design than any traditional type."
Brian Yuill acquired his first Titan trailers almost by accident when he purchased another small haulage firm. Acquired 6 years ago, those first trailers are still in daily service. "Why would I sell them and give the benefit to someone else?" he laughs. The Titan fleet at Yuill & Dodds has now grown to 10 trailers, and Brian expects the number to continue increasing as he replaces other equipment.
The strength of THINWALL
The THINWALL design is based on extruded aluminium hollow-core panels that are built up horizontally. Each panel runs the full length of the trailer and is welded on both sides of each seam. According to Brian Yuill, "Vertical planks are much easier to bend; they are prone to bow out within a couple of years. Those THINWALL trailers, with Titan's horizontal build, are as straight now as they were new!"
The strength of the trailer body, says Brian, also benefits from a robust top rail. The strength of assembly has allowed Titan to design trailers up to 13.6 m in length without requiring a centre bar. As a result, the sidewalls also avoid the stresses of loading equipment crashing down on the centre bar.
A durable investment
As a second-generation fleet owner operating more than 100 vehicles in total, Brian Yuill knows that, however well built, Titan trailers have to prove their worth as a business investment. Based on the results to date, he is convinced that these trailers carry their weight. "You pay a premium for Titan, but you get the payback in the reliability and long life of the trailers. I expect 8 years of service with Titan, where we would only get 5 years from a trailer normally. We find the repair costs are much lower, too. I always put the Titan trailers on longer hauls because of their light weight. They can load about a ton more than my other trailers, and they save fuel. Typically, with the 120-yard trailer, I can get paid for 90,000 lbs. a day in a Titan instead of just 75,000 lbs. in another trailer."
The lightweight strength of the Titan body wasn't the only surprise for Brian Yuill when he first purchased the trailers. All ten of his Titan trailers are equipped with KEITH® WALKING FLOOR® self-unloaders. Eight of the units are 120-yard models earmarked for waste hauling, while the other two are short-bodied construction trailers. While Yuill & Dodds does have other live floor trailers, too, much of the fleet uses ejector-style unloaders. "Many of us have had bad experiences in the past with the other live-floor types of trailers. But we have no problems with the Titans using the KEITH WALKING FLOOR systems. The offload times are much better. And they let us carry 24 tons per load, versus 21 tons with an ejector. They're more cost-effective."
"The difference is that Titan trailers were 'engineered from the ground up' to be walking floor trailers," Brian continues. "For others, a live floor is an afterthought. We see other builders at shows after hours, taking pictures to see what they can do to build a walking floor type trailer like Titan. But they have no in-depth knowledge of how they work; they are backing into it and they make mistakes."
Aftermarket value
Geoff Colledge, Titan's sales representative in Middlesbrough, echoes Brian Yuill's appreciation of his trailers with KEITH unloader systems. Geoff has over 30 years of experience in the manufacturing and repair of trailers and is the owner of the Colledge Trailers Ltd. facility in Teesside where the Titan trailers are assembled. Recently, he installed a new KEITH WALKING FLOOR into an older Titan trailer – a rarity in the waste business. "Other trailers aren't worth the investment of a new floor at that age," he claims. "The Titan design lasts. We have put 5-year-old units into resale, where they fetch as much as the traditional trailers are worth new. Buyers are queuing up already for used Titans."
Geoff Colledge's experience in the field with Titan is an integral part of its new manufacturing facility. Here, Titan offers a one-stop shop for sales, parts & service, along with sound advice for customers looking for ways to be more competitive. "Titan's entire history has been in custom building to suit customer needs. All their unique ideas came about through solving customer problems while increasing their productivity."
Mike Kloepfer's drive to innovate has carried over to the UK operation as well. For example, even prior to Titan Trailers going into production in the UK, Colledge put the THINWALL technology to work building a series of four rigid tipping body trailers for Yuill & Dodds. "It was a successful project," says Brian Yuill. "I fully expect to buy more when the market comes back."
Geared up for Europe
With his eye on the European market, Kloepfer is encouraged by the reports he hears from customers like Yuill & Dodds. "Those first units we shipped to England had North American running gear, which proved difficult for mechanics," he recalls. "Now the trailer components we ship to Middlesbrough for UK assembly use European running gear exclusively."
Brian Yuill concurs. "Having European-built axles makes all the difference," he claims. "Now you have a good running gear as well as a good trailer. The rear end problems you get with most trailers, you don't have with Titan. Our mechanics will tell you they're the best made trailers and they're easy to work with, too."
About Titan Trailers
Titan Trailers is a world-class innovation leader in the hauling industry long recognized for job-specific functionality and attention to manufacturing detail. Titan Trailers offer business-minded hauliers a complete line of trailers utilizing advanced design and manufacturing technologies based on the patented THINWALL extruded aluminium panel. Titan focuses its extensive R&D activities on making its trailers the best business choice for operators in the custom trailer market.
For more information about Titan Trailers, visit the Titan web site at www.titantrailers.com/UK or contact:
Geoff Colledge
Tel: (+44) 01642 460 660
Fax: (+44) 01642 460 800
Kingsway Sidings, Holden Close
Middlesbrough TS6 7AL
E-mail: UK@titantrailers.com
KEITH, WALKING FLOOR and V-Floor are registered worldwide trademarks of KEITH Mfg. Co.