"Renewed Promise"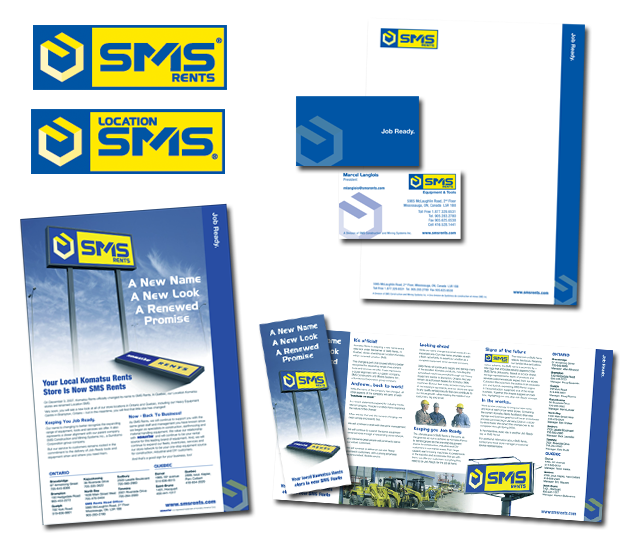 SMS Rents
Objective: Preserve the position of SMS Rents in the regional equipment rental industry through the company's transition to a new name and brand look.
Strategy: Support the visual transition of store signage from the old to the new with a clear promise to maintain the values expected by customers and prospects.
Solution: "Renewed Promise" launch ad and rebranding program.
Results/Commentary: The rebranding strategy determined that the new SMS brand should retain the familiar colour and the "Job Ready" theme established by its predecessor. The image presenting a new SMS Rents street-side sign, with the former sign visible at its base, served not only to provide a clear look at the new name and logo, but also highlighted the continuity from old to new graphics and service philosophy.

With the new identity, local store operators have felt greater flexibility to stock their fleet according to local market needs and preferences, rather than committing yard space and capital to predetermined equipment types and makes. Customers acknowledge that the new logo and brandmarks provide a recognizable representation of the stores' business focus with respect to the type of products offered and the needs that the stores are equipped to serve. The service and sales staff continue to adopt the "Job Ready" theme as a clear actionable mission statement that they can live by every day. The company has expanded its network with new stores in Ontario.
The launch ad and the rebranding program was named as a Marketing Effectiveness Award winner by the Summit International Awards group in the rebranding category.