Titan Strength & Durability Keep Homer Industries Rolling In The Midwest
LOCKPORT, IL – When Homer Tree Service created a new company division to recycle cleared logs into several different varieties of mulch, they turned to the strength and durability of Titan Trailers to move its new products. Over the past four years, Homer Industries has acquired a fleet of nine 45' Titan THINWALL™ trailers through Ken's Truck Repair located in Chebanse, Illinois for their mulch application.
"Durability, reliability, fuel economy are the top three reasons that make Titan our trailer of choice. Add to that the fact that the trailers' smooth sides enable us to paint them our trademark orange and display our company name and you have a winning combination. It's like having a rolling billboard." says Todd Hahn, Director of Operations & Marketing for Homer Industries, LLC. "Our Titan trailers have helped us grow tremendously since we acquired them – and they have helped us achieve our position as the Midwest's largest mulch supplier."
A family-owned and operated diversified company
Founded by Joseph Reposh in 1935, Homer Tree Service remains family-owned and operated by Joseph's son, Ron and his brothers. The company has three independent divisions. Homer Tree Service focuses on large land-clearing projects like road and highway development, commercial and residential development, airport expansions and forest preserves – anything from a 1 acre lot up to a 1000 acre development. Homer Tree Care, on the other hand, deals with residential tree removal, tree pruning and spraying. The company's newest division, Homer Industries, evolved from the company's growth in the 1990s.
"We recognized the fact that we were producing a lot of raw waste wood material and sometimes we didn't have anywhere to take it. We started talking about the mulch industry in the early 2000s," recalls Hahn. "In 2003, we established Homer Industries on a 30 acre full-scale recycling yard right next to our main office. We process all of the logs, wood chips and other wood waste from our land-clearing projects. We also grind and recycle used wood pallets and untreated white wood lumber."
Homer Industries produces five premium brands of mulch, including playground surfacing, processed hardwood, whole tree chips and color enhanced mulch. Playground surfacing has proven to be one of Homer Industries' most successful products. Homer Industries sells its trademark engineered wood fiber, known as Nature's Blanket™ to school and park districts and playground equipment manufacturers throughout the US, including the Chicago Park District with its 8000 parks.
Homer Industries' Titan THINWALL™ trailers on the road 12 hours a day, 6 days a week
Hahn recalls how he and Scott Reposh visited Ken's Truck Repair in nearby Chebanse where Nic Rohr introduced them to the Titan product line. Hahn says they were immediately attracted to the trailers' trademark smooth double-wall extruded aluminum panels.
"Some of the material we load from our land-clearing sites may contain chunks of logs that could cause damage to the walls of our trailers," says Hahn. "We really liked the fact that this type of material would not dimple the outside walls of the Titan THINWALL™. We wanted our trailers to look good because they were going to be seen all over town, including children's playgrounds."
Rohr gave Homer Industries a Titan demo trailer at no charge to try out and followed up with several onsite visits and video presentations. Impressed with the Titan demo's performance, Homer placed an order for four 45' Titan THINWALL™ trailers and ordered another five units a year later.
Homer Industries uses five whole tree chippers and a Morbark 7600 horizontal grinder at its land-clearing jobsites. The company's Titan trailers pick up raw material like whole tree wood chips and single-processed hardwood mulch from the jobsites and haul it back to the recycling yard for processing. Then the same trailers deliver Homer Industries' various grades of mulch to customers. Generally speaking, the trailers operate in a 150 mile radius of Chicago. During Homer Industries' busiest months, usually March to November, the company's Titan fleet is on the road 12 hours a day, six days a week.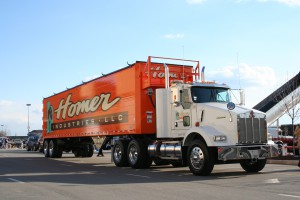 Equipped with KEITH® WALKING FLOOR® unloader systems, the Titan THINWALL™ trailers have proven ideal for quickly and efficiently unloading Homer's raw and processed materials.  Operators also appreciate the door at the front of the trailers that Titan has added to maximize driver safety. "Drivers can enter the trailer safely," says Hahn. "It avoids a lot of hazardous slipping and sliding around, particularly in harsh climatic conditions – something that happens often in the Midwest."
Homer Industries takes great pride in its equipment and likes to keep it clean and good-looking. The company's trademark orange Titan THINWALL™ trailers with company signage on the sides really stand out in the community and have increased public awareness of the company's brand. Hahn says that Homer Industries is very happy with the service they receive from Ken's Truck Repair and speaks fondly of the business partnership he has formed with Nic Rohr. He is also very appreciative of the numerous onsite visits Ken's Truck Repair and Titan representatives have made to Homer Industries.
"Titan produces a first-class product. Their trailers are strong, durable, good looking – and ideal for our application," says Hahn. "Plans are in the works to add up to four more Titan trailers to our fleet within the next year or two."
About Titan Trailers 
Titan Trailers is a world-class innovation leader in the hauling industry long recognized for job-specific functionality and attention to manufacturing detail. Titan Trailers offer business-minded haulers a complete line of trailers utilizing advanced design and manufacturing technologies based on the patented THINWALL™ extruded aluminium panel. Titan focuses its extensive R&D activities on making its trailers the best business choice for operators in the custom trailer market.
For more information about Titan Trailers, visit the Titan web site at www.titantrailers.com or contact: 
Titan Trailers
Tel: 519-688-4826
Fax: 519-688-6453
E-mail: info@titantrailers.com 
For more information about Ken's Truck Repair, call (815) 697-2361.