Trackvision From RMT Gives Operators A Clear View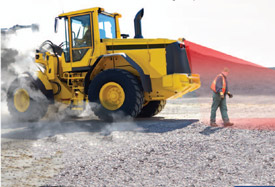 Using TRACKVISION Safety Camera Systems provide 360° of clear vision in rugged packages designed to ensure 24/7 dependability in severe-duty environments.
Montreal, QC – The waterproof wide-angle camera gives equipment operators a 115° field of view in any direction to eliminate blind-spots to the front, rear, sides and "over the wall!" As well as improving safety and reducing equipment damage on the jobsite, TRACKVISION lets operators of wheel loaders, excavators, material handlers, log loaders, truck and scrapers maneuver more confidently and more quickly in congested areas, increasing productivity on every shift.
Mounted adjacent to grapples, buckets and other attachments, TRACKVISION cameras are also ideal for precision loading and unloading of trucks, hoppers, rail cars and barges.
Viewed through TRACKVISION's shockproof 7" hi-rez LCD monitor, these systems are renowned for outstanding image clarity even in low light. TRACKVISION sees in the dark better than the human eye! Each monitor allows the operator to view up to 4 cameras.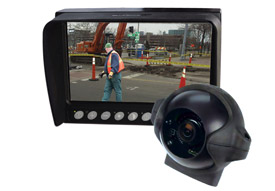 RMT supplies TRACKVISION safety systems with RF-resistant cabling and easy instructions for quick do-it-yourself installations. TRACKVISION is fully supported coast-to-coast by RMT Equipment and an ever increasing factory-trained nationwide network of TRACKVISION dealers.
About RMT Equipment
Established by Bob and Marc Lefebvre in 1996, today RMT Equipment is a leading North American specialist in weighing solutions and the TRACKVISION Camera System for wheel loaders, forklifts, log loaders, excavators, mining trucks, scrapers and conveyor belt scales and metal detectors. RMT is the North American Head Office for the VEI Payload Management Systems (Loader Scales) and the Canadian Head Office for SciTronics belt scales and metal detectors. In 2010, RMT introduced North America to the XW family of wireless crane scales and grapple scales developed by Intermercato AB of Sweden. RMT systems and solutions are sold and serviced by a growing network of equipment dealers throughout the United States and Canada.
For further information, contact:
Marc Lefebvre
Sales Manager, North America
RMT Equipment Inc.
370 Labelle, Suite 114
Laval, QC Canada H7P 2P1
Toll free: 800-648-8132 / Tel: 450-622-0682
www.rmtequip.com