Winkle/LiftTech portable display system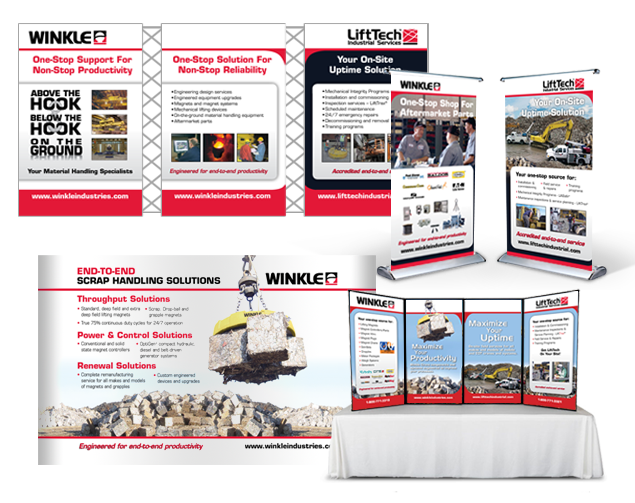 Winkle Industries
Objective: Simplify support of regional events for Winkle sales agents
Strategy: Create a series of "mix & match" display components with varied formats and messaging within a consistent branding framework
Solution: Winkle/LiftTech portable display system
Results/Commentary: The sales teams at Winkle and its affiliate, LiftTech, are required to make presentations in widely varied venues for widely varied audiences. Setups may be required for regional tradeshows, association chapter meetings or boardroom presentations, often on short notice. Topics up for discussion range from engineering support for large capital projects, to sourcing for parts or asset management services.
The display kit evolved to include a selection of simple tabletop elements, floor banners, posters, a printed table cover and a popup backwall. The package was designed to serve the presenters' purpose when used as standalone elements or assembled into an integrated display booth. Compact shipping and ease of assembly were key factors in their design.
With this system, the sales force is able to provide a consistent and professional look for any occasion, with messaging that's relevant to the audience and on-point for the Winkle brand.