New OptiMag G-Series Magnets From Winkle Offer Recyclers More Choices With Less Weight, Lower Costs
ALLIANCE, OH – Winkle Industries has introduced a re-engineered and enhanced line-up of its scrap magnets developed for use in tandem with all standard makes and models of scrap handling grapples.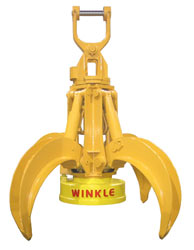 Updated with the latest version of the company's proprietary computer modeling software, Winkle's new OptiMag "G-Series" grapple magnets offer increased lifting capacity with less weight. Through the redesign and enhancement process, Winkle also reduced costs in the new line-up of G-Series magnets through improved manufacturing and material efficiencies.
Winkle's G-Series magnets are designed for typical mag-grab applications, where the scrap magnet is permanently fitted into the top of the grapple. Winkle fabricates the magnet to order with the required fitting to suit any make or model of grapple. The deep-field magnets allow grapple operators to handle scrap and to sweep the work area without changing attachments or leaving the cab. Unlike most grapple magnets, the G-Series scrap magnets can maintain 75% duty cycles in a continuous 24/7 operation.
Winkle has also recently announced similar improvements to its full line-up of L-Series and D-Series scrap magnets, now available for the firm's innovative "grab & go" tower. Winkle towers feature a lifting post welded or pinned to the top of the magnet, which allows operators to easily grasp the magnet with the grapple tines. Requiring only a quick connection to attach the electrical feed to the power source, the tower magnet greatly simplifies the switch from grapple to magnet for sweeping the yard area or when lifting less dense materials such as turnings and shredded scrap.
The new scrap magnets are the result of an end-to-end redesign project enabled by recent refinements to Winkle's proprietary engineering software. The 3D modeling program allows Winkle engineers to optimize the magnet's case and coil design to ensure maximum lift capacity, extended duty cycles and long life with lower costs.
As part of the process to ensure the right tool for the job, all customer orders are reviewed by Winkle engineering to optimize magnet specifications for the required application and equipment.
About Winkle Industries
Winkle Industries is a worldwide leader in engineered solutions for users of mill-duty material handling equipment. Winkle's ISO 9001:2008 facilities provide end-to-end design, manufacture and support for above-the-hook and below-the-hook lifting devices, electrical and mechanical crane products, on-the-ground material handling equipment, engineering services, aftermarket services, machining and fabrication. Winkle's experience and resources are "raising customer expectations" on a wide range of needs, from innovative product design to customer process improvement.
For information, contact:
Ray Seymour, Commodity Manager
2080 West Main Street, Alliance, Ohio 44601
Tel: (330) 823-9730 Fax: (330) 823-9788
sales@winkleindustries.com
www.winkleindustries.com