"Load Up for Less" E-mail Promotion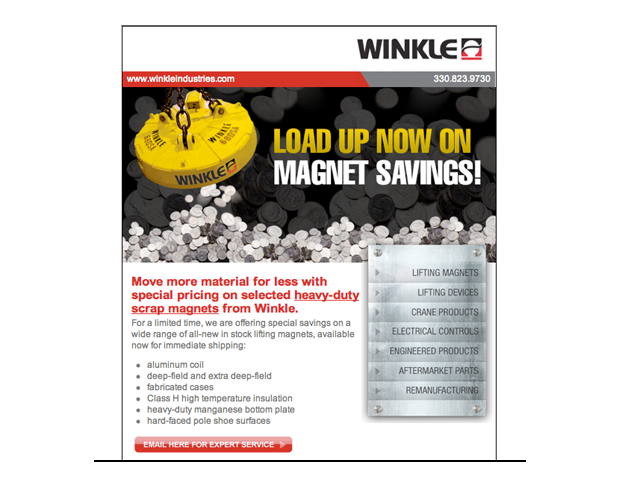 Winkle Industries
Objective: Reduce surplus inventories of pre-built lifting magnets.
Strategy: Follow up on special pricing offered at recent trade shows with a limited-time sale for in-stock units
Solution: "Load Up For Less With Winkle Lifting Magnets
Results/Commentary:  Winkle's aftermarket services department already maintained a well-qualified list of email addresses including buyers and prospects for lifting magnets. The offer also provided the opportunity to highlight Winkle's new "OptiMag" line of re-engineered magnets, combining new technology with a price incentive to trial the OptiMag products.
The email campaign allowed Winkle to address a short-term overstock quickly without distracting its sales team from their primary focus on custom-engineered material handling solutions. With the program's simple message and clear focus, Winkle was able to clear 75% of its excess stock within a just few weeks, while also creating opportunities for add‑on sales of related aftermarket products.