London Firm Earns Top Prize In International Creative Competition
London, Ontario: London-based Marketing Strategies & Solutions has been singled out by the international Summit Creative Awards to receive one of 4 coveted Judges Choice "Cobalt" Award in the 2017 competition as well as a Silver and Bronze.
The Judges Choice Award, with a panel of professionals from Australia, Canada, Chile, Japan, South Africa and the US is a special designation. It is presented at the discretion of the Judges who review entries in all the Summits' categories. The Summit program, a juried competition, was created to recognize creative achievement by small and medium-sized advertising agencies and studios. The 2017 Award Program drew more than 5,000 entries from 24 different countries.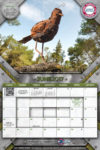 The Judges Choice Award entry by Marketing Strategies & Solutions took top honors in the "Specialties" category and was then named for the Judges Choice "Cobalt" distinction. The recognition was earned by a calendar entitled: Pictures in the Yard -2017 created for London's John Zubick Limited, featuring an artistic interpretation of scrap metals and statues at Zubicks' recycling yard on Clarke Road in London, Ontario. The Art Director for the project created the series of 12 calendar images based on photos that had been done over the years.
The Agency took home two additional Awards. One was a Silver Award for the website (www.argo-xtr.com) designed, built and written for ODG's Space & Robotics Division ARGO Xtreme Terrain Solutions – Robotics for the Real World – of New Hamburg, Ontario. The other one was a Bronze for a public service "Movember" ad entitled Be Tough – Not Stubborn, produced for SENNEBOGEN LLC, of Stanley, North Carolina.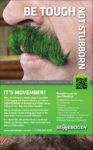 "We are thrilled to accept all these Awards as it is the collective efforts of everyone in the shop that makes it possible for us to continually meet and exceed our clients' expectations," explained Robert Adeland, President and Founder of Marketing Strategies & Solutions. Adeland also expressed thanks to John Zubick Limited for supporting his team's creative vision. "We've had the pleasure of working with the Zubick family for many years and we're very proud of the confidence they have always shown in us. Creating breakthrough work in commercial design always requires a leap of trust. And, of course, we're also very pleased with the welcome reception that the calendar receives from Zubicks' customers every year."
About Marketing Strategies & Solutions
Established by Robert Adeland, Marketing Strategies & Solutions, now celebrating 20 years in operation, has found a successful niche in the marketing world as a specialist in integrated communication services for industrial manufacturers and other business-to-business clients. The firm is one of the select advertising agencies in North America to be admitted as members of the Association of Equipment Manufacturers (AEM). Major clients in Canada and the United States include John Zubick Limited, SENNEBOGEN LLC, Mack Manufacturing, Winkle Industries Inc., Ontario Drive & Gear Ltd., North America Traffic Inc., BEKAWORLD LP and Beau-Roc Truck Bodies Inc. The agency also serves numerous manufacturers and business services local to London and region.
For more information about Marketing Strategies & Solutions integrated communications services, contact:
Robert Adeland, President
433 William Street
London, ON
N6B 3E1
519.432.8327
Email
About Summit International Awards
The Summit Award organization was founded in 1994. Annually, it conducts the Summit Creative Award, Marketing Effectiveness Award and Summit Emerging Media Award.
Additional information about the SIA organization, its competitions and winning firms can be found on the SIA website at www.summitawards.com.
Or contact Jocelyn Luciano, Executive Director
Email
503.297.9979