Marketing Strategies & Solutions Leaves Mark And Makes History With Construction Media Alliance Ad Award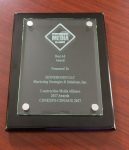 LONDON, ON – As the lone Canadian company to earn a first-ever Construction Media Alliance (CMA) award, a London firm has made history. CMA is the successor to the Construction Writers Association (CWA) that had a long history of recognizing excellence in construction industry journalism and marketing communications.
Marketing Strategies & Solutions Inc., a 20-year member of the London business community, was presented the Best Ad category award in the Marketing Communications division of the inaugural Construction Media Alliance (CMA) awards. All CMA journalism and marketing communications award winners were announced and presented earlier this month at CONEXPO-CON/AGG, the Western Hemisphere's largest construction industry trade show held every three years in Las Vegas.
"Most important to us, the winning print advertisement sent a critically important health message to our partners and friends in the Canadian forestry industry," says Robert Adeland, President of Marketing Strategies & Solutions.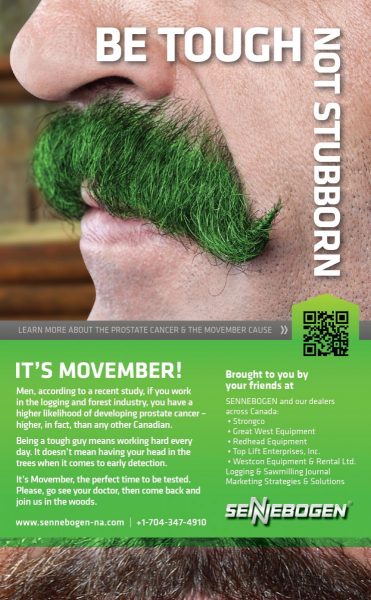 "One of our major clients, SENNEBOGEN LLC, is a leading worldwide manufacturer and supplier of purpose-built material handlers used in various industries, including forestry," explains Adeland. "When it was reported that Canadian men working in forestry are at a higher risk of developing prostate cancer, we were honored to work with SENNEBOGEN to create a smart, vitally important, eye-catching ad."
Important message
The intent of the award-winning ad developed in support of the National Movember Campaign was to encourage the hard-working, hardy men who work in Canada's forests to get out of the woods and in to see their doctor, explains Michael Anderson, Senior Account Manager with Marketing Strategies & Solutions.
"To have this particular creative piece be part of the CMA's first class of award winners is the ultimate thumbs-up to us, our client SENNEBOGEN, and the publisher of the special ad, Logging & Sawmilling Journal," says Adeland.
About Marketing Strategies & Solutions
Established by Robert Adeland in 1997, Marketing Strategies & Solutions has found a successful niche in the marketing world as a specialist in integrated communication services for industrial manufacturers and other business-to-business clients.
The firm is one of the select advertising agencies in North America to be admitted as members of the Association of Equipment Manufacturers (AEM).
Major clients in Canada and the United States include SENNEBOGEN LLC, Winkle Industries Inc., Ontario Drive & Gear Ltd., Sommers Motor Generator Sales Ltd., BEKAWORLD LP and Beau-Roc Truck Bodies Inc. The agency also serves numerous manufacturers and business services local to London and region.
For more information about Marketing Strategies & Solutions integrated communications services, please contact:
Robert Adeland, President
433 William Street, London, ON N6B 3E1
519.432.8327
Email
www.marketingstrategiesandsolutions.com